The Ultimate Guide To Sales Enablement
Overview
Empower sales reps to deliver engaging experiences for modern buyers who expect personalization, automation and overall innovation.
What is sales enablement?
Forrester defines sales enablement as "a strategic, ongoing process that equips client-facing employees to consistently and systematically have a valuable conversation with the right customer stakeholders at each stage of the customer's problem-solving life cycle."
Sales Enablement goes deeper. It's the strategic process to prepare sales organizations with the right tools, content and information to sell successfully. It empowers reps to deliver an engaging experience for modern buyers who expect personalization, automation and overall innovation.
It's strategic
Sales enablement is a high-level undertaking. It requires planning, forecasting and a deep understanding of your potential customers and the problems that they need to solve.
It's ongoing
Enablement is never "done." Product positioning changes. Marketing that may have helped close deals three months ago may no longer be relevant. A fundamental function of sales enablement services is ensuring that sales teams are empowered with the most up-to-date information, continuous training, content and tools to sell effectively.
It's consistent and systematic
When we talk about sales enablement, we're talking about driving uniformity of delivery across the go-to-market organization. By applying best practices across coaching, content management and your sales process, you provide a winning framework that drives greater sales effectiveness and higher win rates.
It sparks valuable conversations
Enablement has been a driver of the shift from transactional sales interactions to consultative sales conversations. Buyers are more informed than ever, with access to huge amounts of research and marketing on you and your competitors. Sales reps are no longer experts by default; they now need to be experts on merit. This is where a well-oiled enablement machine can make a difference.
Sales enablement drives business results
A report from Aberdeen found that companies with a formal sales enablement program are 96% more likely to achieve competitive levels of success.
Additionally, an enablement program helps sales and marketing teams collaborate more productively, working within the same programs that house customer data and content. Both teams can view what information is most impactful and make updates as necessary and can easily share the most relevant materials to sellers in real time. This way, your salesforce isn't using outdated presentation materials.
With communication, content and data streamlined, sellers are able to focus their time on selling and closing deals faster — enablement's ultimate objective. A successful sales rep is a happy sales rep, and with a program dedicated to their success and training, turnover rates will decrease.
Showpad client data reveals the following enablement benefits:
40
%
increase in cross-sells and upsells
17
%
increase in sales within the first month of the program
60
%
reduction in ramp time for new sales hires
300
%
increase in content usage
30
%
of time saved on admin tasks and preparation
Common types of sales tools
Enablement tools automate the customer experience, making it more efficient for you internally and more personalized and engaging for your customers. These tools also make it far easier for marketing to distribute, and sales to access and leverage, internal and customer-facing content. Automating certain functions allows both marketing and sales teams to dedicate their time to revenue-driving activities.
To maximize the potential of your sales enablement tools, it's essential that your sales reps:
Have the authority to make commercial decisions for the organization
Are supported by leadership
Understand their goals and the tools they have at their disposal to meet them
Continually improve alignment with marketing
Customer relationship management (CRM)
A CRM is a database sales teams use to manage and track accounts within their pipeline.
Content management
Your organization's marketing team should be creating compelling information to appeal to different buyers across the buyer journey.
Social platforms
As part of your content management strategy, encourage reps to practice social selling. Research from CSO Insights identified a 10.7% decrease in win rates for organizations that fail to adopt social selling techniques.
Training
Regardless of how experienced a seller is, important information and skills must be taught and reinforced. Provide reps with ongoing training materials that cover everything from product features, competitive knowledge, updated marketing techniques, sales methodologies and more.
Metrics and reporting
Sales leaders can understand how their teams are performing by tracking activities such as completion of training, calls being made on a daily basis and pipeline forecasts.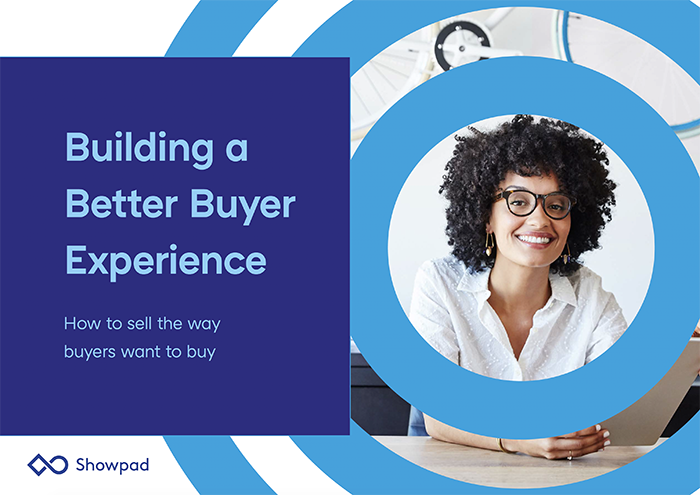 Report
Building a Better Buyer Experience
Download the ebook to find out how to:
Deliver more valuable content to your buyers
Measure the impact of your content to improve sales effectiveness
Personalize each selling experience