The Ultimate Guide To Sales Enablement
Measuring Sales Enablement Success
Defining key performance indicators (KPIs) that reflect your goals.
How to measure enablement success
Quantifiable ROI
Unquantifiable ROI
Measuring ROI
In order to fully take advantage of the ROI of sales enablement, it should be measured based on both quantifiable and unquantifiable criteria. While an enablement strategy that incorporates content, training and coaching is designed to impact revenue growth, it can also provide additional advantages.
Additionally, the ROI of sales enablement should be evaluated based on the specific roles, responsibilities and goals of different business functions. For example, in terms of quantifiable results specific to sales teams, the ROI of sales enablement may be measured in:
Pipeline generation
Number of closed deals
Revenue acquisition
Length of sales cycles
Win rates
Contract values
Deal sizes
How every role leverages ROI

Product Marketing Director
Product marketing directors ensure salespeople are using current, relevant content and strive to understand how that content is used throughout the buyer journey while measuring its impact on deals closed in order to validate their efforts.
And while they're expected to develop compelling messaging that accurately reflects customers' pain points and priorities to help salespeople nurture prospects, they do so with limited time and resources.

Sales Enablement Director
Sales enablement directors must scale onboarding and training for growing teams in the face of competing priorities and goals, not to mention limited budgets and resources. They work with marketing teams to develop sales content and quickly communicate updates regarding products and services to sellers and rapidly develop related training.
They're also responsible for getting new hires up to speed and supporting employees by translating sales strategies into digestible steps that teams can use to reach goals.

Chief Marketing Officer
Not only do chief marketing officers prove the ROI of their budgets, they ensure overarching marketing strategy aligns with sales processes and objectives. When they're not trying to optimize spend and keep sellers up to date on all campaigns and collateral, CMOs are attempting to increase the efficiency of their own teams.
Fortunately, when an organization's sales enablement function is armed with appropriate strategy and tools, CMOs are positioned to reap the benefits.

Chief Sales Officer
Chief sales officers ensure their teams routinely hit quotas and work to improve margins and grow customer bases to outperform competitors. They also optimize territory planning and forecasting, minimizing the time salespeople spend on non revenue-generating activities, speeding up sales cycles, supporting higher annual contract values and keeping top talent happy.
CSOs empower sellers to consistently deliver exceptional buyer experiences – an objective today's sellers struggle to achieve.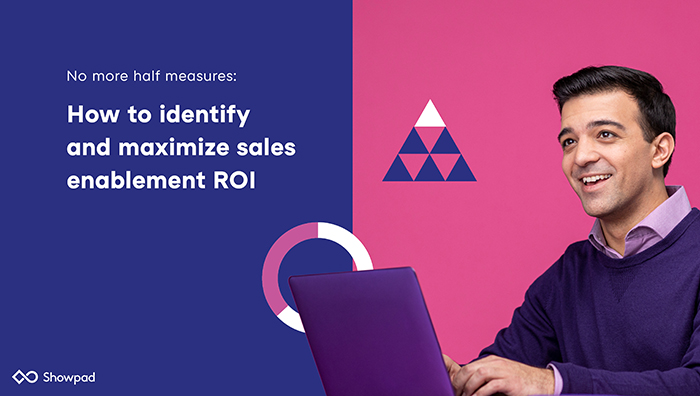 Report
How to identify and maximize sales enablement ROI
Download the ebook to:
Learn the revenue potential of sales enablement across sales and marketing
Obtain valuable insights from sales enablement expert Tamara Schenk
Inform sales enablement strategy with industry best practices